Dr. Tomasz PUZYN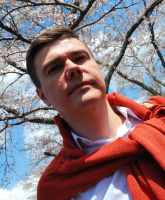 University of Gdansk, Gdansk, Poland, EU

Position: Associate Professor at the University of Gdansk, Faculty of Chemistry - Laboratory of Environmental Chemometrics, Poland, EU
Specialization in nanoscience: Computational methods for designing nanomaterials
At the NANOCON 2015 conference Dr. Puzyn will deliver the invited lecture at the session D - Monitoring and Toxicity of Nanomaterials.
Education and Professional Experience:
Tomasz Puzyn (*1976) since 2008 leads the Laboratory of Environmental Chemometrics at Faculty of Chemistry at the University of Gdansk (Poland, EU). He studied environmental protection at the University of Gdansk, where also hereceived his Ph.D. After receiving Ph.D., between 2007 and 2008, he was working at Interdisciplinary Center for Nanotoxicity (Jacskon State University, Jacskon, MS, U.S.A.) and at the National Institute for Environmental Studies (Tsukuba, Japan) as a post-doc fellow.
Research interests:
Current projects of the research group led by Dr. Puzyn are focused on the development of computational methods for designing new products (nanomaterials, ionic liquids) that are safe for human health and the environment. Computational methods might be interesting for the industry not only because they are faster and less inexpensive than the extensive experimental studies, but their use also leads to the reduction of animal testing (ethical and company image).
Dr. Puzyn is an active member of the international nanosafety community: leader of two EU FP7 projects (NanoBRIDGES and NanoPUZZLES) conducted within the European NanoSafety Cluster and a member of the MODENA Action Steering Committee in frame of COST - European Cooperation in Science and Technology.
Summary of publication activity:
Dr. Puzyn is the author or more than 50 research publications, including those in leading journales (e.g., Nature Nanotechnology). His works have been cited about 900 times and his H- index is 19.
Awards and Honors:
He is a recipient of prestigious national and international awards, including the individual fellowship of Japan Society for the Promotion of Science, fellowships granted by the Foundation for Polish Science (START, HOMING and FOCUS programs), individual fellowship of the Polish Minister of Science and Higher Education and the award of Polish Prime Minister for the best habilitation thesis defended in 2012.