Dr. Tomáš ETRYCH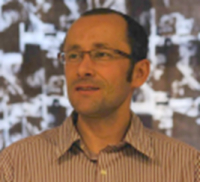 Institute of Macromolecular Chemistry AS CR, v.v.i., Prague, Czech Republic, EU
Present position: Group leader of Department of Biomedicinal Polymers at the Institute of Macromolecular Chemistry AS CR, v.v.i. (Prague, Czech Republic, EU) and Head of laboratory, Research Center BIOCEV, Czech Republic (EU).
Specialization in nanoscience: Polymerchemistry, controlled drug delivery
At the NANOCON 2015 conference Dr. Etrych will deliver the invited lecture at the session C - Bionanotechnology, Nanomaterials for Medicine.
Education:
Degree in Polymer Chemistry: June 1997, Charles University, Prague. Ph.D. in Polymer chemistry(2002) at Institute of Macromolecular Chemistry AS CR (IMC), Prague. Post-doctoral fellowship from November 2002 to December 2003: Universite Montpellier 1 (C.N.R.S.), Montpellier, France (EU). Post-doc fellowship awarded by French Ministry of Youth, Education and Research.
Professional Track:
Tomáš Etrych (1973) is a research fellow and group leader at IMC from 2004 and from 2012 head of laboratory at BIOCEV. At Biocev he leads the Laboratory of Polymer Nanotherapeutics and Diagnostics. Currently, he coordinates the research activities of 3 senior scientists, 4 post-docs, 2 Ph.D. students and 1 Technician. His laboratory is equipped for synthesis of polymer materials, conjugation with biologically active molecules and in vitro biological evaluation on cell cultures.
Research ID: http://www.researcherid.com/rid/G-3420-2014
Current research interest:
His research focus is based at research and development of new types of polymer carriers for targeted therapy of oncological diseases with a potential utilization in human medicine. The polymer systems are mainly based on water-soluble and supramolecular self-assembly polymer carriers of drugs with varying polymer chain architecture (e.g. hyperbranched, star-shaped, comb-like and micellar structures). The major tasks of his research also include the preparation of polymer systems enabling simultaneous treatment and diagnostic of neoplastic diseases and evaluation of polymer systems in vitro (cytostatic and cytotoxic effect) using a broad range of tumor cell lines of human and mouse origin.
Publications S.C.I.:
80 publications, highlights (Impact index larger than 5): 2 ACS nano, 18 J.Controlled Release, 2 Biomaterials, 1 Cancer Res., 2 Mol. Pharmaceutics, 1 Macromolecules, 1 Pol. Chem. and 2 Biomacromolecules. More than 2000 citations, H=28. He is an author of 8 patents.