Dr. María del Puerto MORALES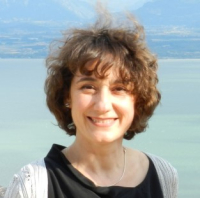 Institute of Material Science of Madrid (ICMM), Madrid, Spain, EU
Present position: Senior scientist at the Department of Biomaterials and Bioinspired Materials of the Institute of Material Science in Madrid (CSIC), Spain (EU)
Specialization: Synthesis and characterization of magnetic nanoparticles for biomedicine
At the NANOCON 2015 conference Dr. María del Puerto Morales will deliver the invited lecture at the session A - Nanomaterials for electronic, magnetic and optic applications; carbon nanostructures, and quantum dots.
Education and Carreer Acomplishment:
Dr. María Del Puerto Morales got her degree in Chemistry by the University of Salamanca in 1989 and her Ph.D. in Material Science from the Madrid Autonomous University in 1993. Since 2008 she is senior scientist at the Institute of Material Science in Madrid, Spain (CSIC). She is active at the research group of Nanocrystals and Chemistry.
Current research interest:
Her research activities are focused on the area of nanotechnology, in particular in the synthesis and characterization of magnetic nanoparticles for biomedicine. She has authored several book chapters in the field of nanoparticle synthesis and more than 150 articles in interactional scientific journals, has directed 3 doctoral theses and has given numerous conferences and seminars.
She is now the principal investigator from the CSIC of two European-funded research projects on "multifuntionalisation of magnetic iron oxide nanoparticles for the early and selective detection and elimination of breast and pancreatic cancer" (MULTIFUN, 2011-2015) and on "Nanometrology Standardization Methods for Magnetic Nanoparticles" (NanoMag, 2013-2017).
Publications S.C.I.: 151 publications, more than 6 150 citations, average Citations per Article 41, H=40