Dr. Samuel SÁNCHEZ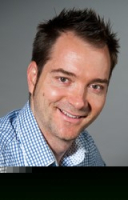 Max Planck Institute for Intelligent Systems, Stuttgart, Germany, EU
Present position: Head of Smart Nano-Bio-Devices Group, Max Planck Institute for Intelligent Systems, Stuttgart (Germany, EU); ICREA Professor at Institute for Bioengineering of Catalonia, Barcelona, (Spain, EU)
Specialization in nanoscience: Lab-in-an-tube, Nanorobotic Biosensors
At the NANOCON 2015 conference Dr. Samuel Sánchez will deliver the invited lecture at the thematic session C - Bionanotechnology, Nanomaterials in Medicine.
Professional Track:
Samuel Sánchez (35) obtained his Ph.D. in analytical chemistry at the Universitat Autònoma de Barcelona in 2008. He went on to work NIMS in Japan and the Leibniz Institute in Dresden. Since 2013, he heads a Max Planck Research group at the Max Planck Institute for Intelligent Systems in Stuttgart and ICREA Research Professor at the Institute for Bioengineering of Catalonia. For his innovative research in the field of macro-and nanomotors he has been named as Spain´s Top innovator under 35 by the Spanish edition of the journal MIT Technology Review and Princess of Girona Scientific Research Award 2015.
Research interests:
S. Sánchez combines materials sciences, chemistry and biology in his work to design and develop small-scale motors and their practical use.His research group aims to study a broad range of phenomena occurring at the interface between materials and biology, from fundamental studies to applications. Examples of those devices can be either integrated (bio) sensors in microfluidic chips or self-propelled nanorobots.
Among others, current research projects of the group are:
Self-propelled micro-nanorobots for biosensing applications (ERC grant: LT-NRBS)
Finding new designs for micro-robots (Alexander von Humboldt Fellowship to Dr. Ma Xing)
New sources of motion at the nanoscale
Fundamental aspects of motion of micromotors in confined spaces (DFG funded Project)
Ultracompact on-chip electrochemical sensors as lab-in-a-tube devices (ERC grant: LT-NRBS)
Study of the behavior of cells in confined spaces
Scientific publications: 75
h-Index: 25
More information: http://www.is.mpg.de/sanchez